Dancing Men Cipher decoder and alphabet
Dancing Men cipher was invented by Sir Arthur Conan Doyle and appeared in his story "The Adventure of the Dancing Men". In this story, Sherlock Holmes discovers that the dancing figures is a secret cipher and cracks the code. The story doesn't cover all letters, but the alphabet was completed by Aage Rieck Sørensen, who also added numerals.
Translate dancing men cipher
Click on any image below to add it to the translation results.
































Dancing men alphabet summary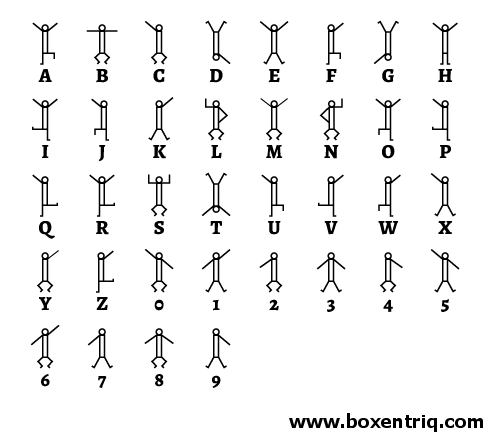 Features
The Dancing Men cipher originated from the Sherlock Holmes story "The Adventure of the Dancing Men" by Sir Arthur Conan Doyle.
In the story, Sherlock Holmes examines the occurrences of the dancing figures, and realizes that it is a substitution cipher. He then cracks the code by frequency analysis.
Not all letters appear in the book. Sherlock Holmes fans have tried to find a pattern for many years. A Danish scholar, Aage Rieck Sørensen, found a hidden pattern in the cipher and added the missing letters (and numerals).
Text is written without spaces. Instead, each man at the end of a word holds a flag.
Dancing men code is a simple form of monoalphabetic substitution cipher.
Dancing men cipher is occasionally used in geocaching mystery caches (puzzle caches), CTFs and logic puzzles. It is usually handwritten, so the shapes can differ a bit, but still usually easy to recognize.
Sample text

The image above represents the text "BOX" written with dancing men cipher.