Semaphore flags - decoder, alphabet
Semaphore flags is a telegraphy system to communicate at a distance by means of visual signals. It can use hand-held flags, rods, disks, paddles, or occasionally bare or gloved hands. Semaphore flags have been used since at least Roman times, but because popular in the maritime world in the 19th century and is still used at sea.
The semaphore characters below are presented as they would appear when facing the signalman.
Translate Semaphore flags
Click on any image below to add it to the translation results.





























Semaphore flags overview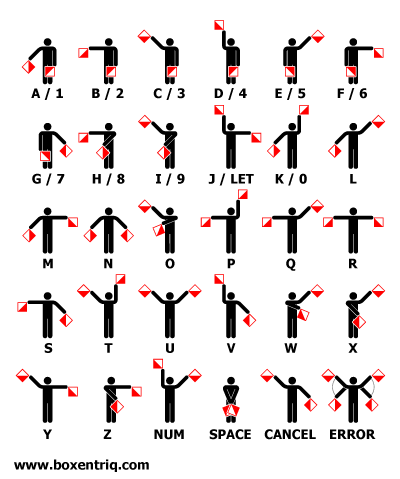 Numbers can be signaled by first signaling "Numerals" (NUM). Letters can be signaled by first signaling "J" (LET).
Features
Along with Morse code, semaphore flags are currently used by the Navy and also continues to be a subject of study and training for young people of Boy Scouts.
The flags are colored differently based on where they are used. At sea, the flags are colored red and yellow, while on land, they are white and blue.
Semaphore flags provide no secrecy, since anyone within visual distance can see the message.
This communications method is also called "flag semaphore". More information about flag semaphore is available on Wikipedia.
Semaphore flags are occasionally used in geocaching mystery caches (puzzle caches), CTFs and logic puzzles. The flags can be replaced by other objects.
Sample text

The image above represents the text "BOX".