Cipher Identifier and Analyzer
Stuck with a cipher (cryptogram or other puzzle)? This tool will help you get started by analyzing your cipher and find the most likely encryption method used.
Cipher methods detected include:
Caesar cipher (including ROT13 and keyed Caesar ciphers)
Monoalphabetic substitution ciphers (including Atbash, Affine, etc)
Vigenère, Gronsfeld, Beaufort cipher
Columnar transposition ciphers, Railfence ciphers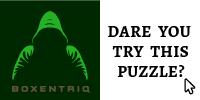 Analysis Summary
Your ciphertext is likely of this format:
The analysis indicates that the encoding used is likely one of the following:
Statistics:
---
Caesar Cipher (including ROT13)
Suggested
The Caesar cipher, also known as a shift cipher, Caesar's code, or Caesar shift is one of the oldest and most famous ciphers in history. While being deceptively simple, it has been used historically for important secrets and is still popular among puzzlers.
---
Monoalphabetic Substitution Cipher
Suggested
The substitution cipher is one of the oldest classical ciphers. It is simple enough that it usually can be solved by hand. Each letter is replaced by a different letter of the alphabet, so solving the puzzle means finding out the original lettering. Substitution ciphers are the most common examples of cryptograms (classical ciphers).
---
Vigenère / Polyalphabetic Substitution Cipher
Suggested
Vigenère cipher is a polyalphabetic substitution cipher, named after the 16th century French diplomat Blaise de Vigenère but actually invented by Giovan Battista Bellaso. It was considered unbreakable for three centuries. Friedrich Kasiski is credited with publishing the first successful attack on this previously-unbreakable cipher in 1863.
---
Transposition Ciphers
Suggested
In a transposition ciphers, the plaintext message is scrambled by rearranging the letters. Transposition ciphers can be attacked by moving letters around and anagramming. They also can be attacked using brute-force methods if the key isn't long enough.